It may be the "fastest (and most exciting) two minutes in sports," but the Kentucky Derby is much more than a race.  While women show off their most fashionable hats, men suit up and strut their stuff, too.  Don't delay!  The Derby is run the first weekend in May.  You don't want to get left in the dust!
A Little History
Known as the "Run for the Roses," the Kentucky Derby is the culminating event of a two-week festival.  It's also the first event in the Triple Crown, followed by the Preakness Stakes and the Belmont Stakes.  The winner of the Derby is traditionally draped with a blanket of roses.  Attendance at the race is the highest of all the races, even topping the Breeder's Cup.
The Kentucky Derby began in 1875 and has taken place every single year since.  And, because of its long running, it abounds in tradition.  Obviously, roses are popular, as they are the official flower of the Derby.  Other  traditions include drinking mint juleps and eating burgoo.  But the most well-known tradition is the wearing of hats and the expectation that all respectable attendees dress the part.
Giving the Ladies a Run for Their Money
Every Derby attendee knows that in addition to watching the horses, one should watch the hats.  Ladies wear large hats and it often becomes something of a competition to wear the best or most fashionable one.  
Men, on the other hand, may wear a hat, but that's not where you get to shine.  Since a suit is expected, how else to celebrate the occasion and show your Derby spirit, than with cufflinks that celebrate the special day?  Thankfully, we have you covered.  There are lots of fun options:
The mint julep: sure, you can drink a mint julep, but you can wear one, too.  And not in a way that leaves stains or makes you spend precious minutes mopping things up.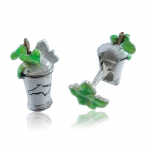 The jockey: show off your racing spirit with the emblem of horse racing.  Pick one that's subtle, or pick one that's flashy.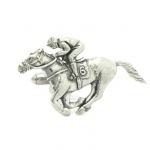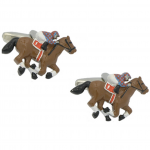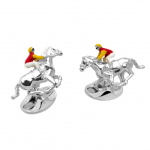 The horseshoe: wear your lucky horseshoes and wish your favorite horse the best!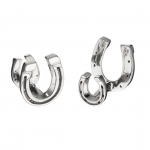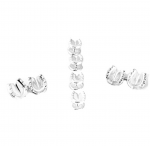 Dollar Signs:  placing a bet is exciting, and if you choose wisely, you'll be in the green!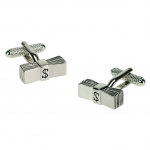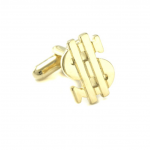 Still stuck!  We've got more:  check out our full collection of horse-racing cufflinks.  You can also call our helpful service department (1-866-4MY-CUFF), and we'd be happy to suggest some additional options.  So, get your suit on, add some fabulous cufflinks, and you're off to the races!