Financial History
In 2003, the US Congress showed its support for financial literacy in America by passing a resolution that made the month of April Financial Literacy Month.  Although several states already had their own month to highlight the importance of financial literacy, it was made official when it passed the Senate unanimously.
In 2006, the Financial Literacy and Education Commission released a report titled, "Taking Ownership of the Future: The National Strategy for Financial Literacy" that detailed a strategy for helping Americans improve their understanding of financial issues such as credit management, savings, and homeownership.
Today, companies and organizations around the country take time this month to educate the nation about the importance of understanding their finances and understanding how money works.
So, this week, to celebrate all things money and finance related, we're going to look at some of the options here at Cufflinks Depot that will help you focus on your financial world this month.
Know Where Your Money Goes
Although not many people carry cash these days, it's still important to make sure you have a place to carry your cards, your ID, and other important documents (like insurance and such).  We offer to options: a handsome wallet and sexy money clips.  Although which one you choose is entirely your preference, it's always nice to have options.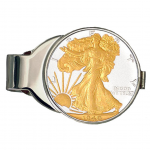 Know Your Options
Once you know you've got your money handled, take a moment to take stock of your fashion.  Cuff links give you the perfect opportunity to show off your financial savvy by wearing some subtle (or not) money-themed jewelry.  Whether you're flaunting blinged-out dollars or more subtle coins, this is the perfect time to pick up something to remind you why you head out to work each day (at least one of the reasons).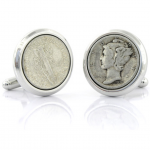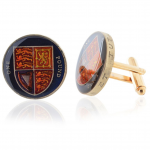 We're Here for You
We'd love to help you find what you're looking for. If there's something you have in mind, but you don't see it, give us a call or use our chat. Our amazing support team will do everything they can to make sure you're happy.