On March 4th, the Academy of Motion Pictures Arts & Sciences will hold their annual Academy Awards award show, also knows as the Oscars.  It's later than usual this year, so that it doesn't conflict with the 2018 Winter Olympics.  That means you have more time to upgrade your fashion before the Oscars Party!
A Little Oscars History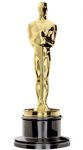 The Academy Awards (Oscars) are a set of 24 awards for artistic and technical distinction in the United States film industry, given annually to recognize excellence in cinematic achievements. First created in 1929, each category winner is awarded a copy of a golden statuette which has become commonly known by its nickname "Oscar".  Hence, "The Oscars."
The Academy Awards' first broadcast in 1930 was actually a radio broadcast, and only became televised in the 1950s.  It is the oldest worldwide entertainment awards ceremony, and it is televised in over 200 countries (and streamed online to many more).
This year, during the ceremony, the AMPAS will award Oscars in 24 categories, most notably Best Motion Picture, Best Actor, and Best Actress.
So How Do You Party?
One of the best traditions to accompany this fabulous awards ceremony is that of the Oscars Party.  Friends and family gather to admire the elegance of the celebrities as they walk down the red carpet, while marveling at the women's beautiful gowns.  And they place bets on who the big winners will be.
When you make your grand entrance, even if it's not on the red carpet (but especially if it is), you want to make a statement.  Whether you're wearing a formal jacket or not, whether you're wearing a tuxedo or not, you can celebrate the film industry with the perfect pair of cufflinks.
Film Forward Cuff Links
Your love of film is matched only by your love of a great Oscars party!  You should be wearing cuff links that show off your fanaticism.  If you can recite the winners of past Oscars, you need these now!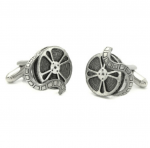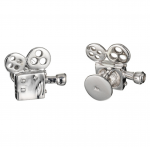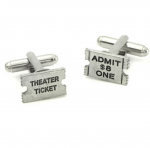 Modern Cuff Links
Maybe sleek and modern is your thing.  Or perhaps is the appeal of something shiny.  Regardless, if your goal is to look sharp and chic, you'll want to explore these elegant options: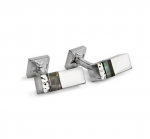 Stay Classy, Baby
Nothing comes close to the classics, whether it's a good black-and-white film or the cut of your clothes.  Some things never go out of style, and you intend to always be in fashion.  If keeping with the tried-and-true is more your thing, these cuff links may be just what you're looking for: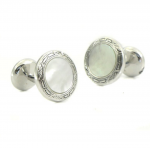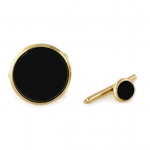 Your Own Personal Stylist
You may know exactly what you're looking for, but if you can't find it, or if you need some suggestions, give us a call and our knowledgeable support team will be happy to help you with your search.  They want to make sure your entrance at the party is a grand entrance, indeed!