Cufflinks are a fun and beautiful piece of jewelry, but it's important to care for them properly so they last your entire lifetime, and beyond!  Our guide below gives you some tips for to care for and clean your cufflinks.
Professional Services
The easiest way to clean your cufflinks is to take them to a qualified jeweler in your area.  Ideally, you want someone with some experience with cufflinks, but most jewelers have the equipment and know-how to get the job done.  Additionally, if you happen to scratch or scuff your cufflinks, a jeweler will be able to polish them back to perfection.
Another option is to contact the retailer where you purchased your cufflinks (we hope you bought them from us, and we'd love to help you if you have questions – please give us a call!).  They can point you in the direction of a reputable cufflinks cleaner or give you tips for doing it yourself.
At Home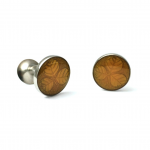 If paying for a professional isn't your preferred method, you can easily do most cleanings at home. However, the best way to care for your cufflinks is to wear them mindfully.
Cufflinks should be worn frequently to keep them in top condition.  While this may seem counter-intuitive, wearing your cufflinks helps keep them from tarnishing and gathering dust.  And, by keeping them where you see them frequently, it's also easier to remember to care for them.
Deakin & Francis, a premiere cufflinks designer, suggests some tips for keeping your cufflinks in top condition:
Keep your cufflinks in a clean environment, separate from other jewelry. A

cufflink box

is ideal for keeping the cufflinks separate and clean.

Don't take your cufflinks for a swim, chlorine can damage sterling silver and gold.

Keep a silver or gold polishing cloth in your desk drawer to wipe away office dust that may mark your cufflinks.

Don't run over your cufflinks in the Ferrari, or drop them in a glass of G&T!
Sounds like some good advice!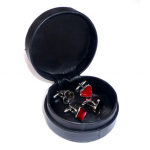 Precious Metals & Gemstones
If you have cufflinks made of gold or silver, you can use a professional gold or silver cleaning solution or warm, soapy water and a soft cloth to gently clean them.  You can use an old soft-bristled toothbrush or professional cleaning brush to get into nooks and crannies, if necessary.  Made Man has step-by-step direction for cleaning vintage gold cufflinks that can give you more details on cleaning your jewelry with soapy water.
Clean sterling silver with a soft polishing cloth.
If you also have precious stones or pearls, you can use the same method, but be careful not to let them sit too long in the water.
Enameled & Stainless Steel
If your cufflinks are enameled or stainless steel, avoid using cleaning solutions, because it could ruin the solvents used to create them.  Instead, use a soft polishing cloth to gently rub them clean.  These items don't generally require frequent cleaning, though.
Protect Your Cufflinks
Taking care of your cufflinks, long term, is easiest if you keep them in a jewelry box.  This helps prevent oxidation and tarnishing, which occurs as a reaction to oxygen.  This also helps to keep them away from heat and sunlight, which can also cause damage.  Ideally, you want to keep each pair in segmented compartments so they don't scratch other jewelry items.  We have a large selection of cufflink boxes here and a selection of jewelry boxes here.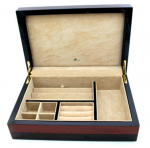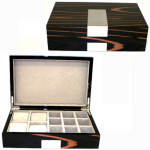 The Long Haul
If you take care of your cufflinks properly, and if you wear them frequently, they will be a wonderful heirloom to pass on to your future generation.  If you have questions about how to care for your cufflinks, please give us a call, and we'd be happy to assist you.