The NFL playoffs are here, football fever is rampant, and Fantasy Football is raging.  Football in America is one of its greatest past times, and everyone loves to celebrate their favorite team.  Most of the time, we watch on the couch, but during playoff season there are playoff parties and, the ultimate, the Super Bowl Party!  Here are some fun ways that you can celebrate your favorite team and make a statement, whether you're at work or out cheering them on with your friends.
When shopping for your NFL cufflinks, there are several sporty options.  What's your style?  Do you prefer to show off  your support and wear the team logo?  Or maybe you'd rather be more subtle and choose a cufflink shaped like a helmet?  Or, maybe you're the die-hard, ultimate fan, and you'd like to own a piece of history by wearing a cufflink that incorporates a piece of your stadium seating or game ball (Yes! We have those, too!)?  Check out the options below for a few ideas that can take your team fandom to the next level.
Remember, all these officially licensed cufflinks are made on silver plated settings. Some even come with a free box lined with turf!  And, as always, shipping is free.  Click the items below to be taken to their listing, or check out the whole collection here.
Team Logo Cufflinks
Whether you prefer a simple logo or a cutout logo, these cufflinks let the world know which team you're cheering for.  Several of these cufflink sets come with a special turf box.
Memorabilia Cufflinks
Own a piece of history with these limited edition cufflinks that incorporate actual pieces of stadium seats and footballs.  Only for the most devoted fans!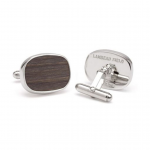 Other Fun Cufflinks
These cufflinks offer a chance to celebrate some of the things that make American Football unique, including helmets, footballs, and fields.