With fall comes Halloween.  It's the perfect timing for this spooky holiday – the air starts to get a chill in it, the leaves are fading and falling, the wind starts to howl a little, and the nights are getting longer.  Somehow, the change is the perfect inspiration to start looking for a pair of cufflinks that will give a nod to the tradition of sharing treats and scaring your friends and neighborhood children. Here are 10 spooky Halloween cufflinks to get you started.
1. Sterling Chattering Skull Cufflinks with Diamond Eyes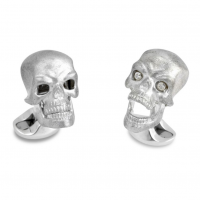 Skulls have long brought shivers to people.  They remind us of our humanity and mortality, and on a night like Halloween, these skeletal emblems are a great way to add a scary tough to your outfit.  These cufflinks combine the darkness of the skull with beautiful diamond eyes that are revealed when the jaw opens!  This surprising detail will delight the wearer and shock the unsuspecting friends who admire it.
2. Vampire Cufflinks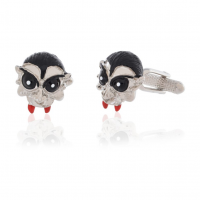 Vampires have long captured the imaginations of people around the world.  From Count Dracula to Twilight to Pure Blood, the vampire legend has taken countless forms.  These blood-sucking vampire cufflinks are enameled to portray a vampire after he has sated his hunger on a helpless victim.  They're a perfect accessory for your next vampire movie premier or your Dracula costume.
3. Frankenstein Cufflinks
It's aliiiiiiive!   Mary Shelley's Frankenstein has become a literary classic, and Dr. Frankenstein's monster has become one of the most famous and recognizable creatures in the world.  These cufflinks feature the head of Dr. Frankenstein's monster with beautiful detail.  Sure to start a gruesome conversation, these realistic cufflinks might even bring out the fun monster side of you at your next Halloween party.
4. Devil Cufflinks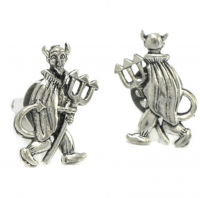 If there's a time of the year when the devil is en vogue, Halloween is it.  From eating too much candy to scaring the neighbor's kids, it's not unheard of to say, "the devil made me do it!"  For centuries the devil has been portrayed in various guises, and these pewter cufflinks capture him in all his Victorian glory.  This devilish pair makes a great conversation starter. And you'll always have someone to blame if you get a little naughty this Halloween.
5. Marvel Punisher Cufflinks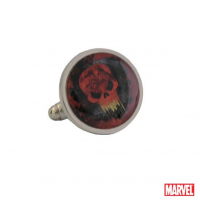 This vigilante bent on revenging the murder of his family has become a cult favorite and is revered by Marvel comics-lovers everywhere.  He sparked a new interest in portraying the troubled hero on a quest to right wrongs in his own (destructive and deadly) way.  If you're feeling a bit like the anti-hero this halloween, these accessories might be just the fit.  Carefully crafted with a resin top to give it a misty look, these cufflinks are perfect for your next costume party.  Or the office.
Did you love these fun ideas?  Check out our whole lineup of Halloween cufflinks. We have everything from fun and whimsical cufflinks to scary cufflinks.  If you need help picking something out, or if you can't find the right one, contact our helpful reps at 1-866-4MYCUFF.  They're happy to help you – no blood or soul required.