Mardi Gras History
Mardi Gras, French for Fat Tuesday, is part of the carnival celebrations that begin after Three Kings Day and continue until Tuesday before Ash Wednesday, which marks the beginning of the Lent Season. Since Lent is a time of foregoing something of value, often food or another enjoyable activity, Fat Tuesday is the last big hurrah before the fast begins.
To mark the day before the beginning of Lent, Mardi Gras is a time of indulgence. Revelers eat rich food, attend opulent balls, and party until the early morning hours. And although most people think of Mardi Gras as a single day, it's actually a celebration that takes place over several days or weeks (depending on where you're celebrating the holiday).
Parading and Partying
The Mardi Gras parade is probably the best known aspect of the holiday. It features giant, colorful floats, beautiful costumes, and lots and lots of beads! The first Mardi Gras parade held in New Orleans took place in 1837. The tradition in New Orleans expanded to the point that it became synonymous with the city, and isembraced by residents of New Orleans regardless of their ethnic or religious background.
On Mardi Gras Day, the Tuesday before Ash Wednesday, the last parades of the season wrap up and the celebrations come to a close with the Meeting of the Courts (known as the Rex Ball). Other local Krewes host their own balls and many locals spend the evening partying in the streets.
Dress It Up for a Mardi Gras Ball
Although New Orleans is the city most often associated with this fun season, Mardi Gras is celebrated in many other cities. However, if you're attending one of the Mardi Gras balls, you need to look your best because most of the best ones are black-tie events. And even if you're not, it's fun to show you party spirit at work. We've got some ideas for you that include cufflinks with the traditional Mardi Gras colors of green, purple, and gold: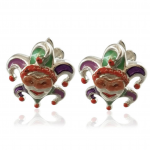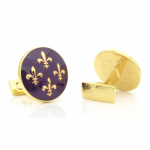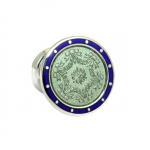 If you're having trouble finding what you want, we'd love to help.  Give us a call and one of our friendly support team members will be glad to work with you to find the perfect pair of cufflinks.