It's easy to think of cufflinks as something a man may only wear once or twice in his life. However, this is not the case. There are many events that where cufflinks should be worn.  Here are five of the most common ones.
At a Charity Gala Event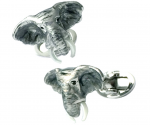 Charity Galas are elegant and beautiful affairs, full of women in glittering jewels and lovely gowns.  For men, it's an opportunity to wear your own set of jewels: your cufflinks.  When dressing for a charity gala, men are often asked to wear a tuxedo to match the drama and formality of the occasion. That doesn't mean that you can't still show your style, though.  For example, if you are attending a charity gala to raise money for your city's zoo or animal rescue organization, you could choose one of these fun animal cufflink sets.
At an Evening or Formal Wedding
Evening or formal weddings are the most common events where cufflinks are expected.  Of course, all male members of the bridal party should wear cufflinks; however, in the case of evening and formal weddings, guests are usually asked to dress "to the nines," complete with appropriately formal bow ties and cufflinks.  Cufflinks also make a wonderful groomsmen gift.
A Night Out on the Town
Cufflinks aren't just for formal and fancy events!  Even though that's what we often think of first, cufflinks can be work for a pleasant, relaxed night on the town.  Since men don't have as many options as women when it comes to dressing up their outfits, cufflinks make the wonderful accessory and let you show off your personal style, as well as your personality, hobbies, and interests, like with these fun Mr. Perfect cufflinks.  It's the perfect time to have a little fun while staying classy.
In the Boardroom or at the Office
Most people wouldn't think of wearing cufflinks to the office because they may
be seen as overly formal for the environment. However, according to the Art of Style, "it is generally acceptable for senior employees and executives, such as CEOs, CFOs, and Managing Directors, to wear cufflinks on a normal basis since wearing them sends a signal of power…"  If you fall into one of these categories, wearing cufflinks can be a subtle sign of power, especially in a boardroom. You may consider one of these classy, engraved cufflinks to enhance your office wardrobe.
Another option in the office would be these roaring lions, that allow you to show off your powerful side, or these fun hole-in-one puzzle cufflinks that will help you stay awake during a boring presentation.
At a White Tie Event
A white tie event is by nature very formal with a strict dress code.  When invited to one of these events, such as a formal parties, the opera, and, if you're really in-the-know, a White House dinner, male guests are expected to dress as elegantly as possible.   This includes a white full-dress shirt with white shirt studs, and white cufflinks. With these gorgeous sterling silver and pearl ones you can be the best dressed man at the event.
Of course, there are many other times and places you may wear cufflinks. Hopefully this has given you a few ideas so that the next time you get that invitation, you know just what to wear.