Cufflinks are often associated with fancy dinners and formal events. However, in more recent years, the rules have changed, and cufflinks have become a trendy accessory for the stylish man.  
New Rules for Cufflinks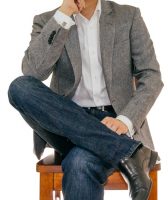 For generations, well-dressed men have been wearing cufflinks. Today, modern wearers benefit from changing styles and updated trends.  One example of this is the rule that once stated cufflink-wearers must wear a jacket.  Thankfully, that's changed, and it's become acceptable to wear cufflinks without a jacket. This allows the cufflinks to be worn in more casual situations and with more laid-back clothing options, such as jeans!
Are All Shirts Equal?
For someone who hasn't ever worn cufflinks before, the question of whether a shirt is suitable may seem strange, or even a little pretentious.  But when picking your shirt, you really must be careful. Since buttons are quite different from cufflinks, the type of cuff you choose can dictate the type of fastener you need to use.
The Barrel Cuff
Most men's dress shirts sold today come with buttons on the cuffs.  This type of sleeve is called the barrel cuff and comes with either one button or two.  The two button double-fold cuff (known as the cocktail cuff or Portofino) was made famous by the superspy, James Bond.
However, if you want to wear cufflinks there are two other types of shirts that you may choose from: french cuffs or single cuffs.
French Cuffs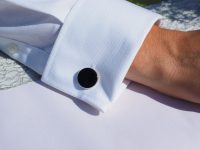 French cuffs are more formal than barrel cuffs. They have extra length that is folded back and fastened with cufflinks.
This is the style of cuff that most people think of when they imagine a wedding or a semi-formal event. But although this is a popular cuff for tuxedo shirts, this style has recently become more popular in the business world, particularly in Europe.  It's even become an acceptable option for everyday wear since it gives even something as laid back as jeans a more classy look.  
This is a nice bonus, because it means you can wear your cufflinks more often and to more places.
Single Cuffs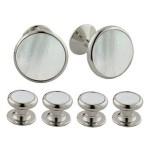 Single cuffs are even more formal than French cuffs and are basically double cuffs without the fold, fastened with cufflinks.  Since they are so formal, they are typically only worn for white tie events and are a preferred option for black tie events.  We have a wonderful selection of tuxedo sets that will take your look up another notch.
So, What Should You Choose?
Although some shirts that you purchase may allow you to wear either option, ultimately, if you want to wear cufflinks, you'll need to make sure your shirt has holes in the cuffs rather than having only buttons.  If you aren't sure how to wear your cufflinks with your french cuff shirt, the video below may be helpful.
Cufflinks are a great way to show your style, and Cufflinks Depot offers a huge variety of styles, from casual to designer, and from novelty to engravable, for you to choose from.  With over 5000 products, and orders that ship the same day ordered, we want to help you look your best, no matter the occasion.